'Tis the season! As they say. 'Tis the season for merriment? Comfort and joy? Songs by the fire?
Or is it the season of stress, chaos and overwhelm? If you are feeling more like combusting chaos than a chorus of carolers you are not alone!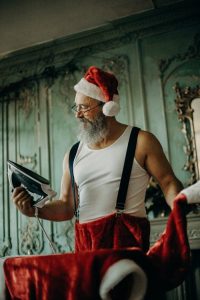 Here are some simple ways to cope with the overwhelm of the holidays:
Awareness: Take a moment to check-in with yourself. Where is your level of overwhelm? How is your body? What muscles in your body are tight, right now? Relax your jaw, let your shoulders drop, release the tight grip in your back. How is your brain? How many thoughts are going on at once? Give yourself permission to slow down your thoughts, and focus on one thing at a time. Try to bring a consistent state of awareness into your well-being, checking in with yourself throughout the day, every day. It is needed now, more than ever.
So no: Do you feel overcommitted? Are there just too many booked dates and times on your calendar? The pressure to overcommit can be especially intense during the holidays. Remember that you have the power and control over your own schedule. You CAN say no to extra commitments like volunteering to set things up and decorate or bringing extra snacks… to whatever. Perhaps shave down any extra time and show up to events for less time. You have the right to down-time. Even during the holidays!
Calm the Critic: Check-in with that inner voice, you know the one with all the "shoulds" and comparisons to "those who do it all with ease". Is this voice being hyper-critical? Is she/he telling you that you should also be baking cookies, buying more gifts, making home-made ornaments, sending out Christmas cards, and on and on and on? Have a chat with that critical part of you. Find out what brings you BOTH joy over the holidays and do exactly that… and nothing more.
Take a Pause: Find a pause in the day to just be with you. It may be during a drive, a shower, or after the nighttime routine. Take a pause from electronics: leave your phone in the other room or in the backseat of the car, they invade our brains in more ways than we realize. Take a pause from noise: turn off music, talk radio etc. Go in a quiet room and just be with your thoughts and breathing. Ease into a moment of mindfulness: Close your eyes or have a soft gaze (unless you're driving!). Try to focus on the rise and fall of your breath and let your thoughts roll by. These simple moments of mindfulness allow a much-needed break for our busy, overwhelmed brains.
Family Fun: Consider checking in with your family. There may be a ton of assumptions about what everybody wants and needs over the holidays. If you have kids, you may assume that they would be bummed out if you didn't do the annual gingerbread house, or if they elf didn't visit, but they may actually be over it. Maybe there is pressure from your extended family to participate in extra traditions, check-in and see if that pressure actually exists. You may be off the hook and not even know it!
Squeeze In Self-Care: Self-care is a big IT word right now but I don't mean bubble baths and pedicures. I mean the self-care that meets YOUR needs, whatever they may be. For example, taking care of your body, mind, and spirit. That may mean taking the time for movement, in whatever form feels good to YOU. Or balancing your budget if it feels like the expenses are getting out of hand. Or reading, or writing, or taking a nap. Or taking a break from the chaos of the holiday dinner prep to just. be. alone. Do you boo.
The holidays may be an overwhelming time but it doesn't have to be "the most neglectful time of the year". Reducing overwhelm can take minutes or sometimes seconds of your day. Take the time you need, when you need it. Because you are a precious gift to the ones you love this time of year.